In recent weeks I've been looking at my legacy lead pile and starting on my plans to restore it. I have reasonable collections of 1970s and 1980s Fantasy and Ancients figures that have sat unused for well over 30 years. a number of them will get paint stripped and repainted to act as armies and heroes in my fantasy world setting of Afreeq.
Orc Spear Regiment
First up are the Orcs. This is a small unit of old Minifigs Dungeons & Dragons Orcs from c1978. The Minifigs range attempted to be quite true to the official 1977 Monster Manual and the orcs here are of the pig-faced variety that appeared in that inspirational volume.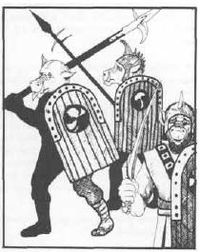 This unit is made up of a figures I purchased from eBay a long time ago and have just been sitting in the drawer. They really need a commander and a standard bearer so I'll be keeping my eye out for any coming along. Or I could just order them as new castings from Caliver – who have brought some of the range back into production.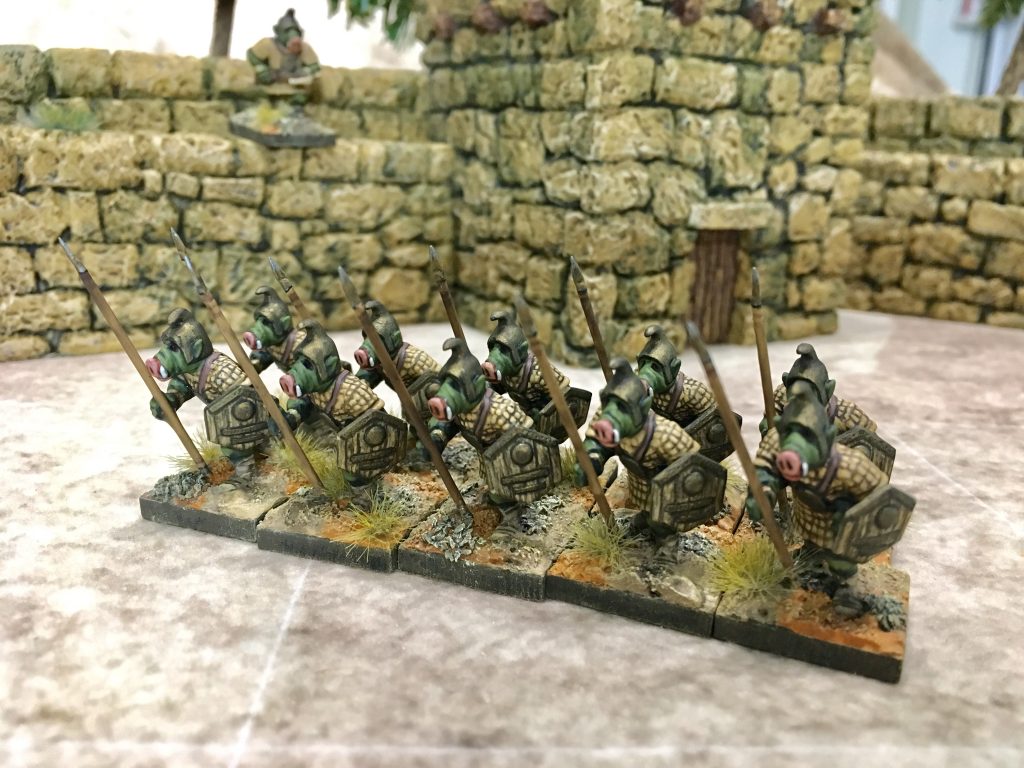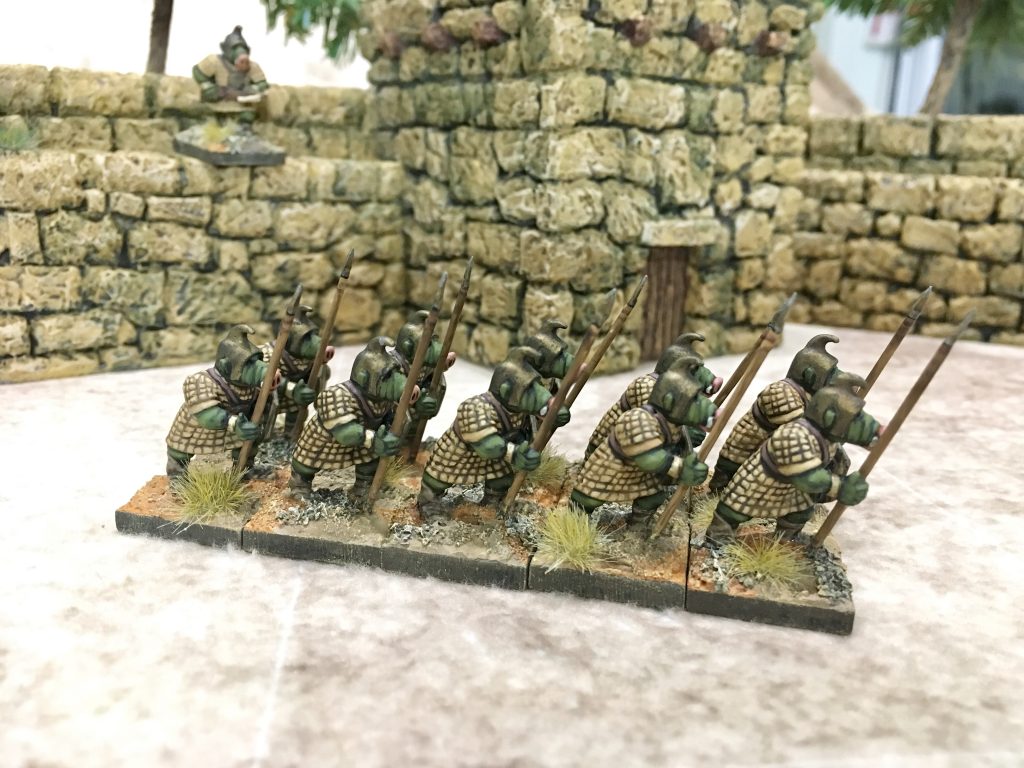 Other Goblinoid Tribes
Many other goblinoid tribes inhabit the mountains of Afreeq, Fierce tribalism and lack of interbreeding has meant that each tribe has diverged significantly over the ages and there is now huge variation in size and colouration. They do occasionally band together for war and raiding. Fortunately this means I'll be able to use all the goblin types in my lead pile to create their forces. The main types waiting for paint work are shown below. Towering Minifigs Hobgoblins (great figures in Samurai armour), Citadel Fiend Factory Goblins, Minifigs Goblins and Ral Partha Goblins of the Night. All originally released in the 1970s and all classic figures. I love the Ral Partha Night Goblins – very crudely sculpted but have quite a charm all of their own.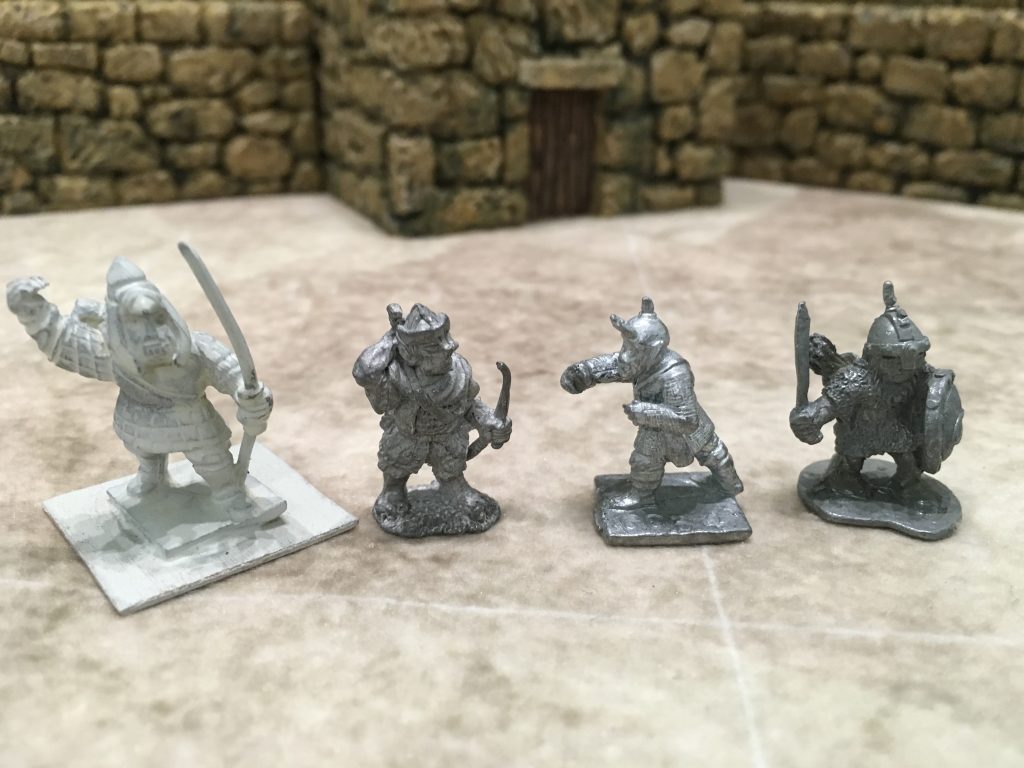 The Heroes of Arcadia
Deep in the Mabaya Jungle on the banks of the Great Kunga River is the small city state of Arcadia. Centuries ago explorers from the Old World navigated the great river in their triremes searching for a legendary treasure. Many disasters occurred preventing them from returning home and so they settled and founded the city of Arcadia. Their small army defends the city against the horrors that lurk in the deep jungles.
These figures are again rescued from the lead pile. They are a mixture of Citadel Runequest Adventurers and 1970s Garrison Miniatures Greeks. The army will mostly consist of Garrison Hoplites (my first ever war-games army). These figures will also double up nicely as characters for Runequest.
Arcadia will live in two worlds. My own fantasy world – Afreeq – as outlined above. But also in a more Hyborian-style imaginations Ancients setting that I have been discussing with Henry Hyde.